[eventador_banner8 date="9 November 2022, Amman, Jordan" title="Peacock Awards" sub_title="Shine a light on your outstanding work. There's nothing more valuable than receiving recognition as a leader in the space."][/eventador_banner8]
Peacock Social Media Award
[eventador_about][eventador_label label="
THE MOST PRESTIGIOUS SOCIAL MEDIA AWARDS
" /]
The Peacock Awards honor the best in social media by recognizing & rewarding Organizations & Individuals that are using social media in best & innovative ways.
Peacock Social Media Awards invite any organization, including agencies, brands, services, non-profits, individuals, etc., to enter their most innovative work on social media. To be eligible, the entry must have been at least partially live in 2021
[eventador_label label="PEACOCK SOCIAL MEDIA AWARD" /]
There are two competitions of the Peacock Social Media Awards: the Celebrities competition and the Brands & Organizations competition. Winners for both branches of the competition will be revealed at the World Social Media Forum ceremony.
[eventador_list class="m-top-10″][eventador_list_item item="The Peacock Awards for Brands & Organizations honor the innovative and creative work professionals are executing in social media and digital through a formal online entry process.! the winners are selected from 3 nominees through a combination of votes from the public and scores from Moments Innovation." /][eventador_list_item item="The Peacock Awards for Celebrities & TV Anchors, the winners are selected from 8 nominees through a combination of votes from the public and scores from Moments Innovation." /][/eventador_list]
[/eventador_about]
[eventador_about_info label="When"]{Wednesday}{09 November 2022}[/eventador_about_info][eventador_about_info label="Where"]{ST. Regis Hotel Amman}[/eventador_about_info]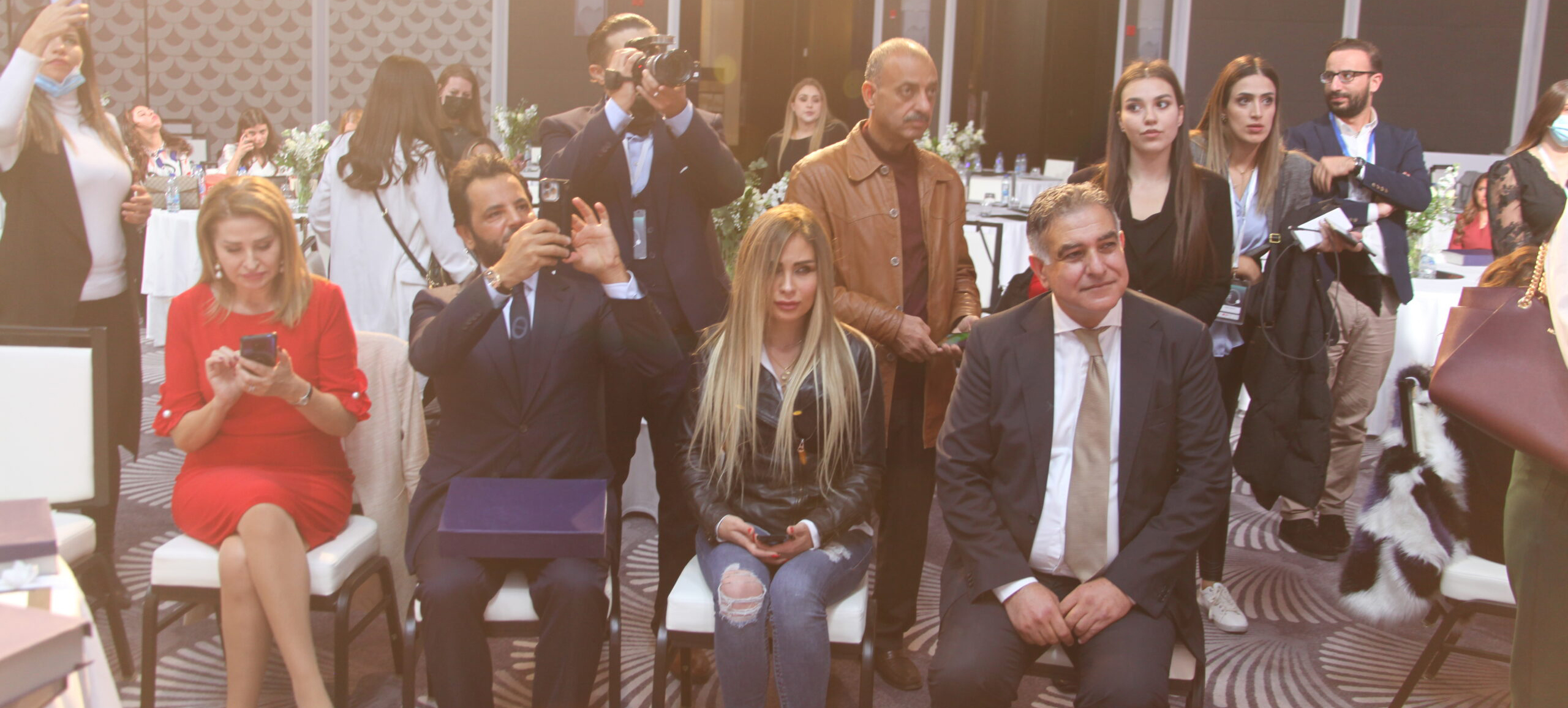 [eventador_heading title="Peacock Awards Categories" color="dark"]
Best Telecom Service Provider Use of Social Media
Best Airline PR Social Media Campaign
Best Marketing Agency of the Year
Best Bank Use of Social Media for Marketing Campaign
Best Travel & Tourism Use of Social Media
Best Government Bank Digital Transformation
Best TV Campaign Engagement on Social Media
Best TV News Coverage of Public Issues
Best Arabic Digital News engagement on Social Media
Best TV Documentary of the Year
Best TV Economic Show in the Middle East
Best Arabic Digital News for Travel & Lifestyle
Best TV News Channel use of Social Media
Best TV program Empowering Arab Women
Best TV Entertainment Programs
Best News Video Content on Social Media
Best TV Investigative Production
Best TV Program Using AR/ VR Technology
Best Correspondent on the Frontlines
Best Podcast Service in Middle East
Best Economic news on Social Media Platforms
Best TV program monterring Fake News
Best program on Social Media Platforms
Best political program in Lebanon
Best social media Arabic platform
Best Morning Weekly program
Best Jordanian Celebrity Use of Entertainment Content
Best TV Anchor of the Year
Best Economic TV Anchor of the Year
Best Social Media in the Middle East
Best TV Anchor Use of Social Media for Social Affairs
Best TV NEWS ENGAGEMENT ON FACEBOOK
Best Politician use of Social Media
Best Journalist use of Social Media
Best TV Channel News Director
Best Editor-in-Chief in the Middle East
Best CEO TV Channel of the Year
Best TV Anchor Use of Social Media for youth Affairs
[eventador_feature_img img="6476″ img_alt="Peacock Social Media Award"][/eventador_feature_img][eventador_feature_img img="6475″ img_alt="Peacock Social Media Award"][/eventador_feature_img]
[eventador_about][eventador_label label="FACTORS THE SOCIAL MEDIA AWARD CONSIDER" /]All entries are judged on creativity, innovation, and overall effectiveness. You will have the opportunity to fill in the following information.[eventador_list class="m-top-10″][eventador_list_item item="Describe the objectives and goals that lead to the implementation of your campaign or initiative. Up to 250 words." /][eventador_list_item item="Describe your entry strategy, implementation, and key features. Up to 500 words." /][eventador_list_item item="Layout the results of your work and how it successfully met your team's objectives and goals. Up to 250 words." /][eventador_list_item item="Upload an image that best represents your entry. You may upload multiple images, but only the image selected as the cover photo will appear in your entry header. Your cover photo will be resized to 500 x 300. Images must be .jpg or .png, 5MB max size." /][eventador_list_item item="Additional information/links: You may include any additional information that will help judges evaluate creativity and effectiveness, including landing pages, social streams, videos, etc." /][/eventador_list]
[eventador_label label="CRITERIA" /]When entering work for the Peacock Awards, remember that your work must demonstrate at least one of the following criteria:[eventador_list class="m-top-10″][eventador_list_item item="Impact & Engagement: Entries should demonstrate that their work had a positive impact and engagement." /][eventador_list_item item="Creativity: Entries should demonstrate that their work is creative." /][eventador_list_item item="Strategy: Entries should demonstrate that they implemented effective strategies important to the goals of the cause." /] [/eventador_list][/eventador_about]
[eventador_heading title="Gain Industry-wide recognition" desc="Shine a light on your outstanding work. There's nothing more valuable than receiving recognition as a leader in the space."]
[eventador_heading2 top_title="BRANDS & ORGANIZATIONS" title="Congrats to the Winners of 2021″]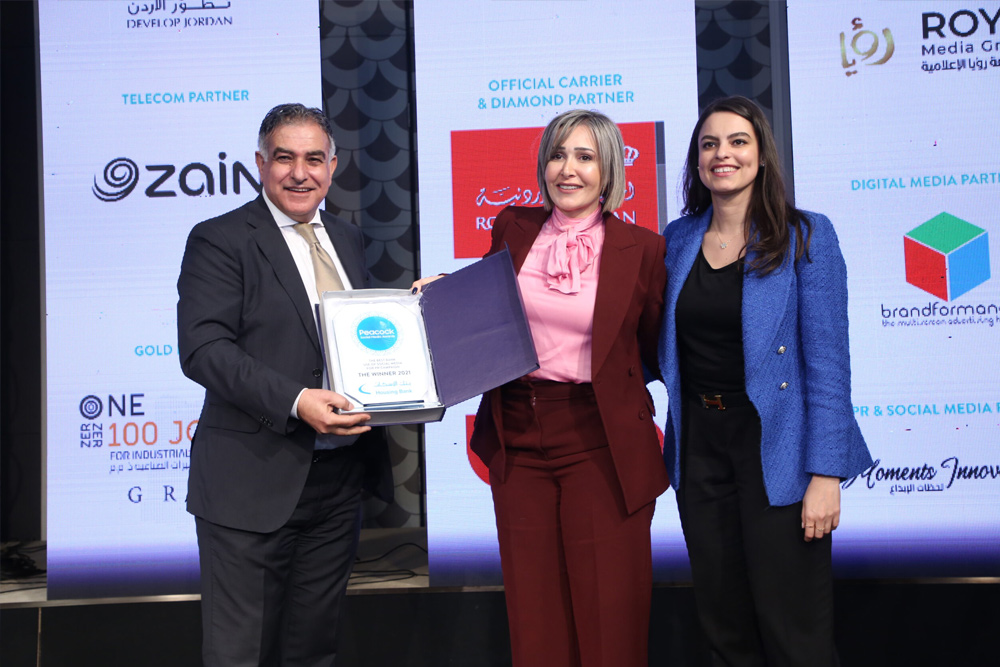 Housing Bank بنك الإسكان
BEST BANK USE OF SOCIAL MEDIA FOR PR CAMPAIGN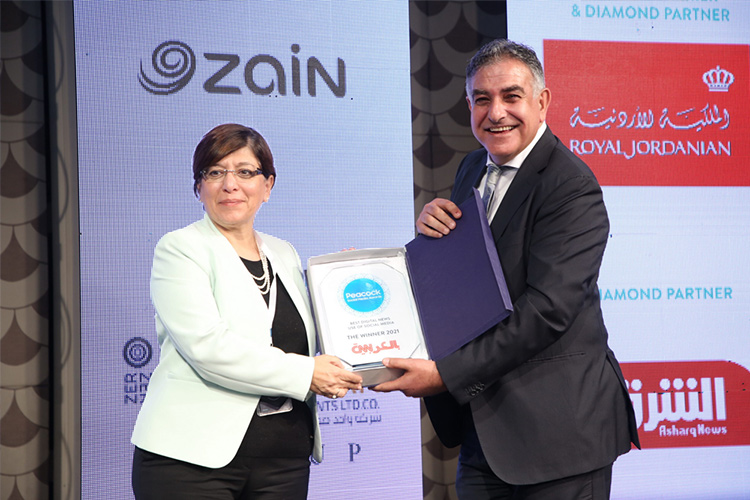 CNN ARABIC
BEST DIGITAL NEWS IN SOCIAL MEDIA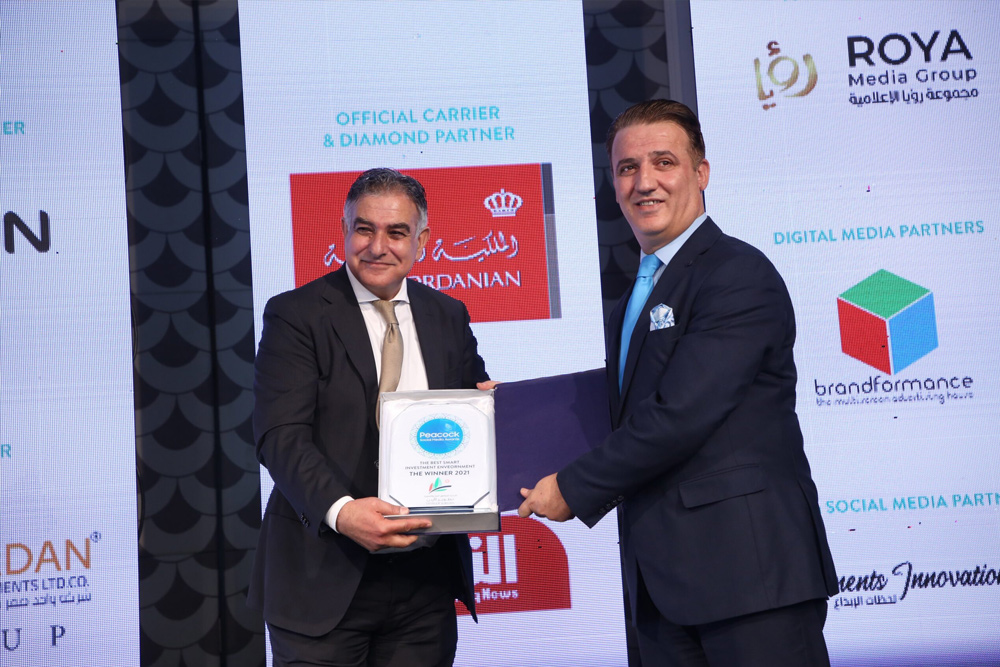 Jordanian free and development zones group
BEST SMART INVESTMENT ENVIRONMENT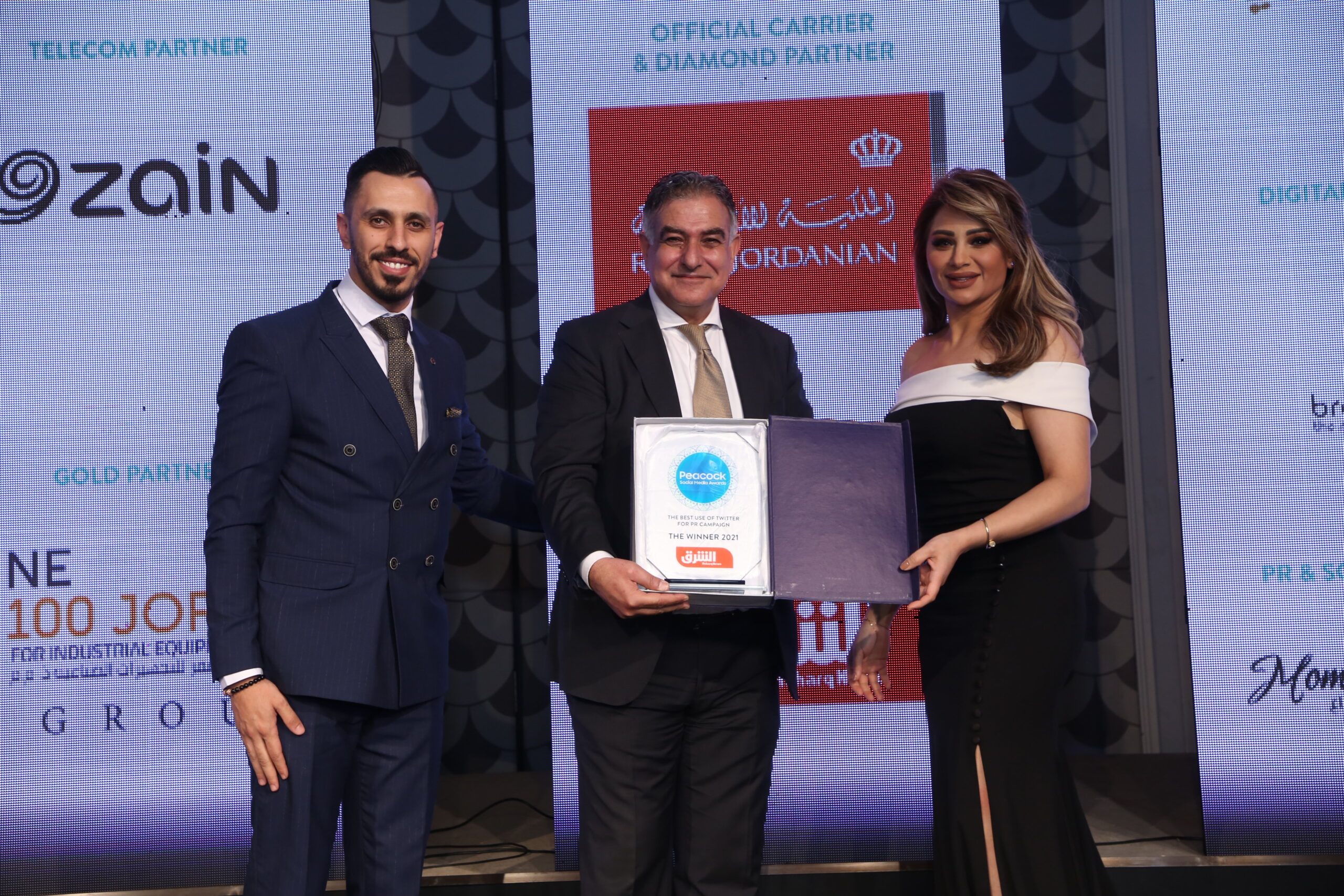 Asharq News الشرق للأخبار
BEST USE OF TWITTER FOR PR CAMPAIGN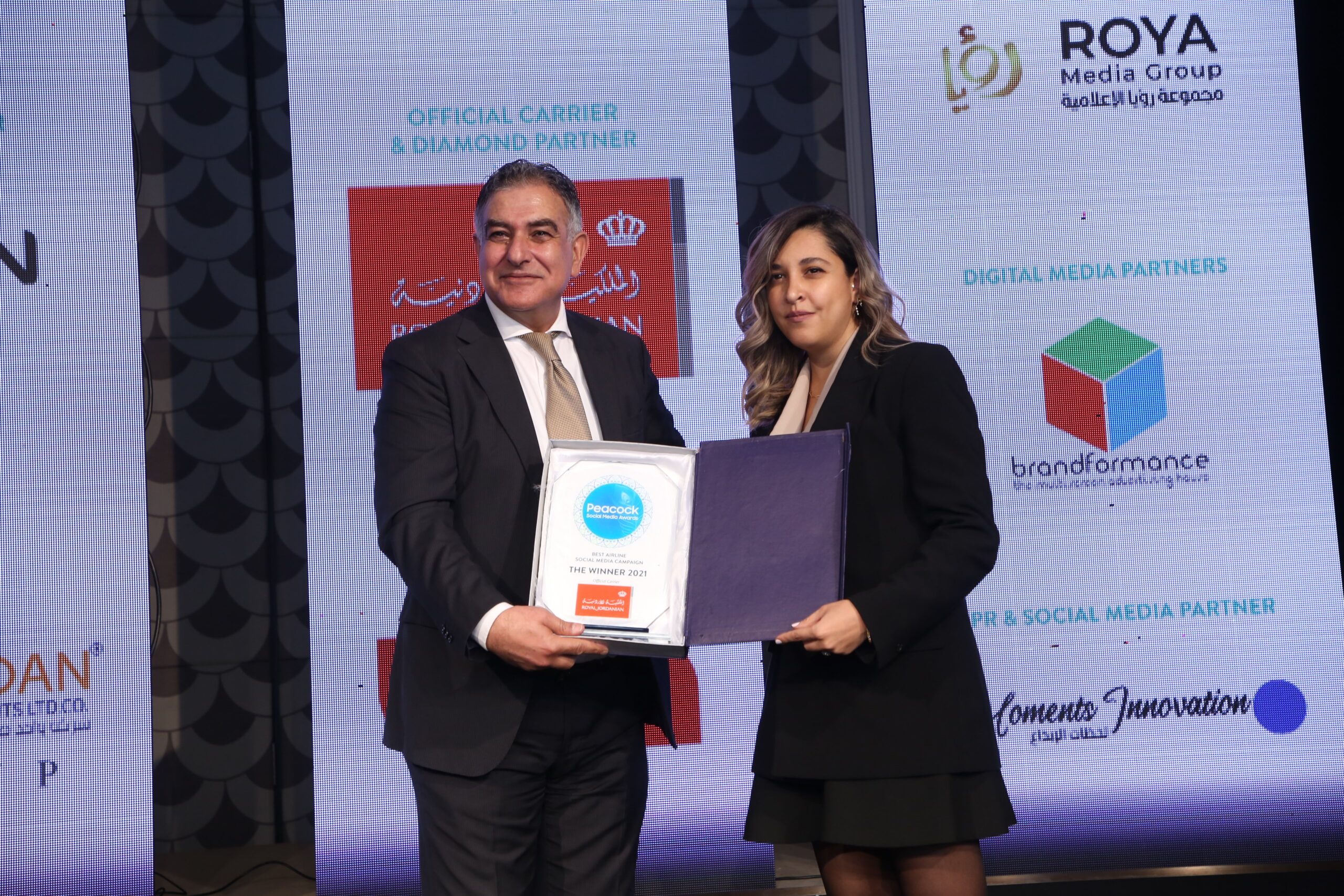 Royal Jordanian
BEST AIRLINE SOCIAL MEDIA CAMPAIGN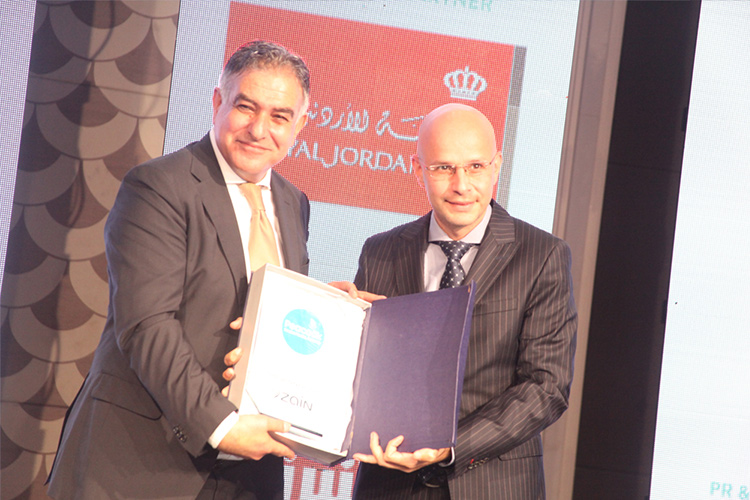 Zain Jordan
BEST TELECOM OPERATOR USE  SOCIAL MEDIA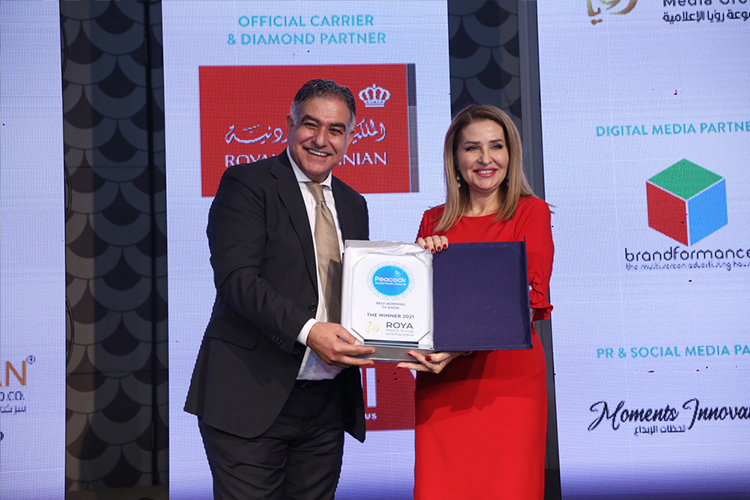 ROYA Media Group مجموعة رؤيا الإعلامية
BEST MORNING TV SHOW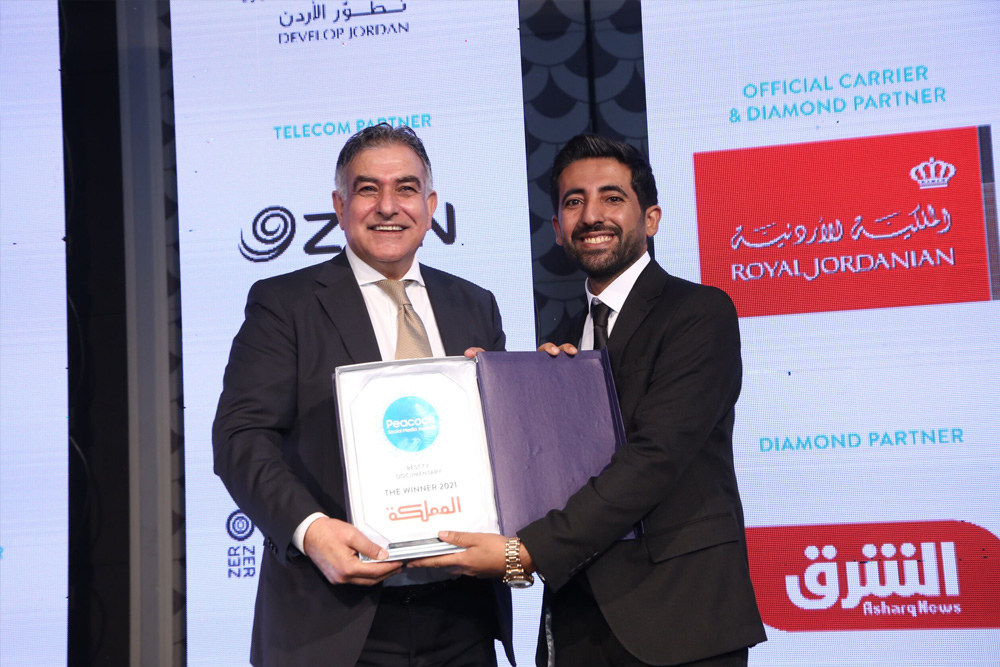 المملكة Al Mamlakah TV
BEST TV DOCUMENTARY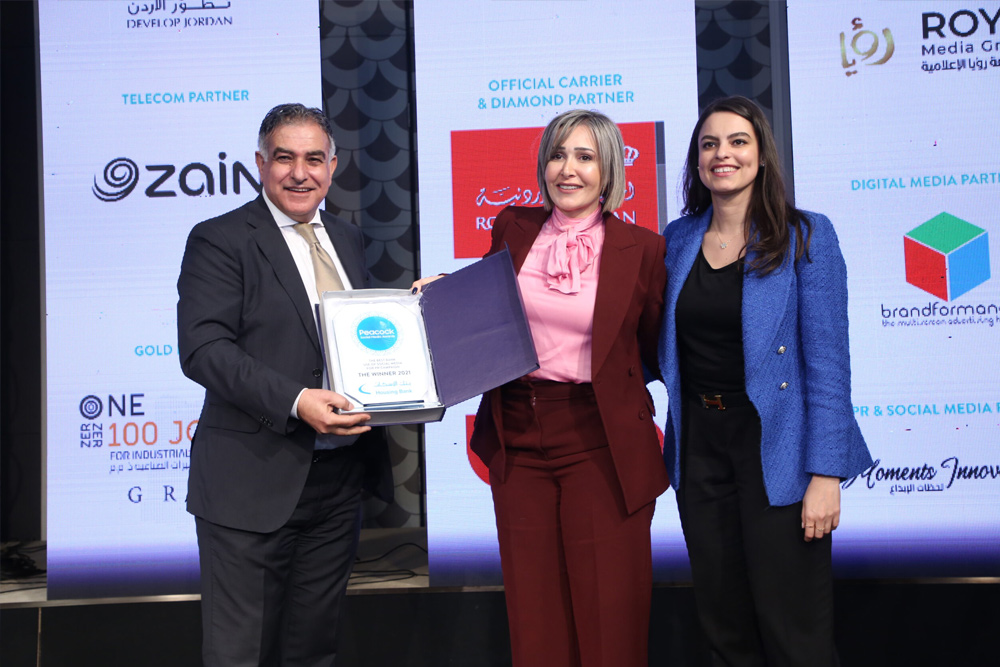 Housing Bank بنك الإسكان
BEST BANK USE OF SOCIAL MEDIA FOR MARKETING CAMPAIGN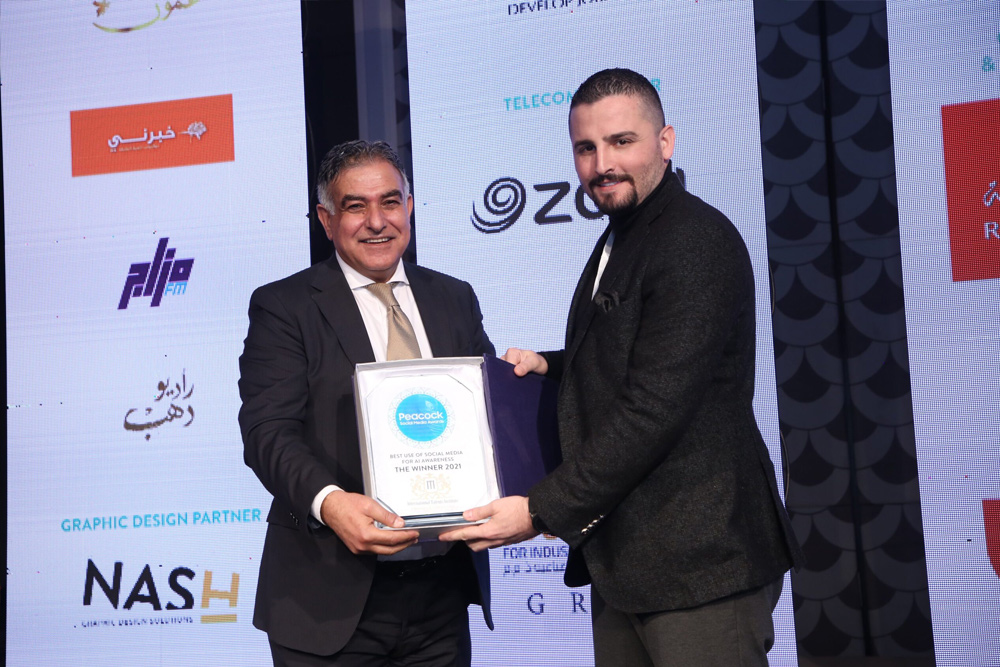 DR RAMI SHAHEEN
BEST USE OF SOCIAL MEDIA FOR AI AWARENESS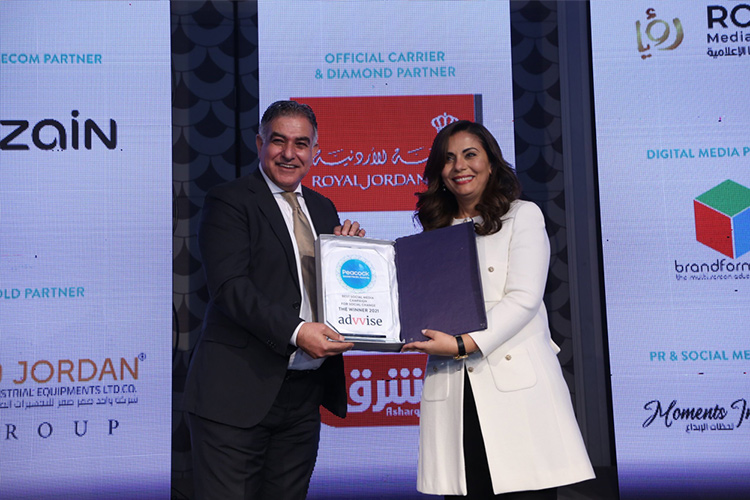 ADVVISE
BEST SOCIAL MEDIA CAMPAIGN FOR SOCIAL CHANGE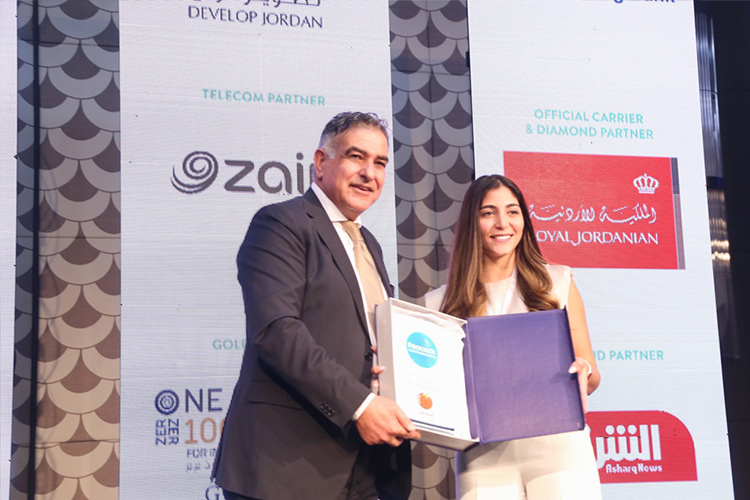 Tamatem Games
BEST YOUTUBE CHANNEL
[eventador_heading2 top_title="INFLUENCERS & CELEBRITIES" title="Congrats to the Winners of 2021″]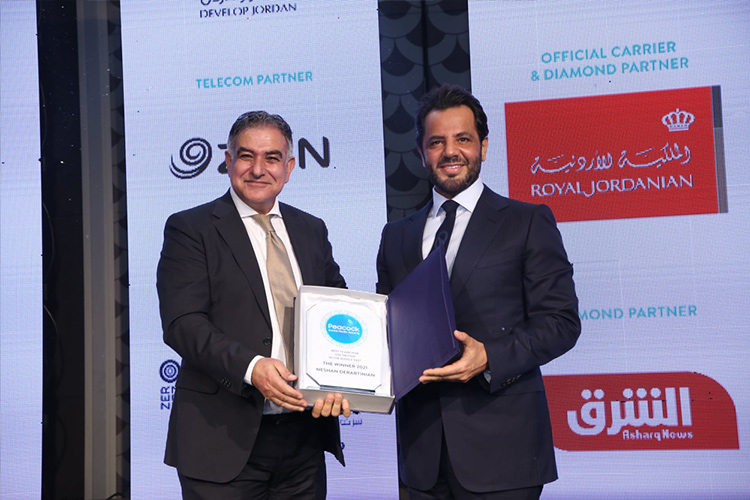 Neshan Der Haroutiounian نيشان
BEST TV ANCHOR USING TWITTER IN THE MIDDLE EAST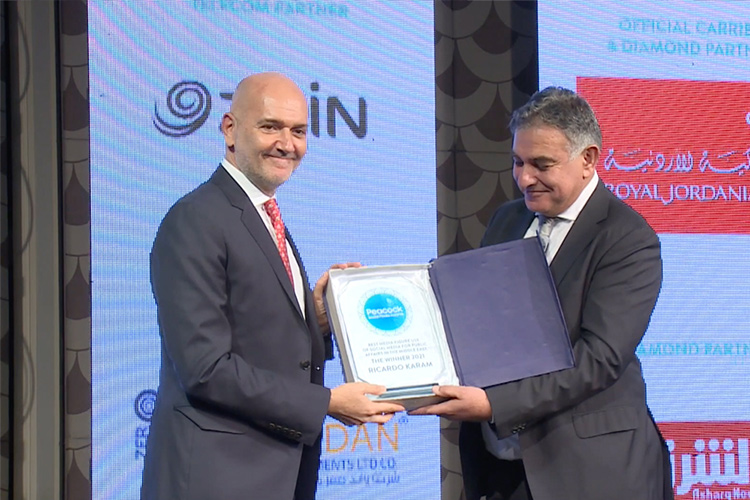 Ricardo Karam ريكاردو كرم
BEST MEDIA FIGURE USING TWITTER FOR PUBLIC AFFAIRS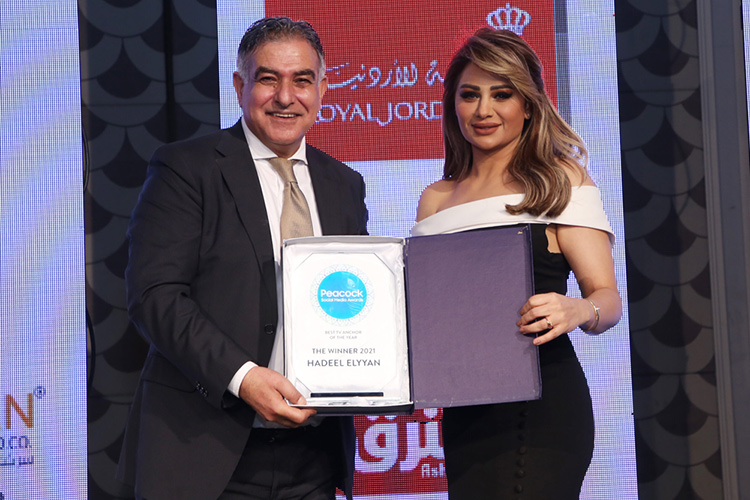 Hadil Eleyan هديل عليان
BEST TV ANCHOR OF THE YEAR IN SOCIAL MEDIA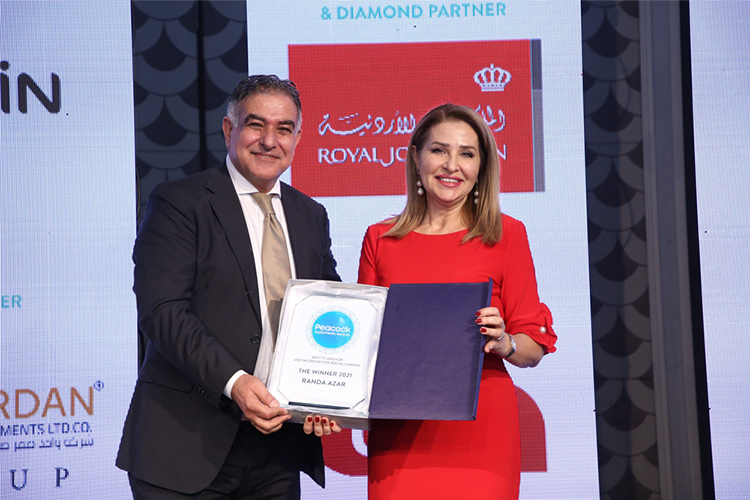 Randa Azar رندا عازر
BEST TV ANCHOR USING FACEBOOK FOR SOCIAL CHANGE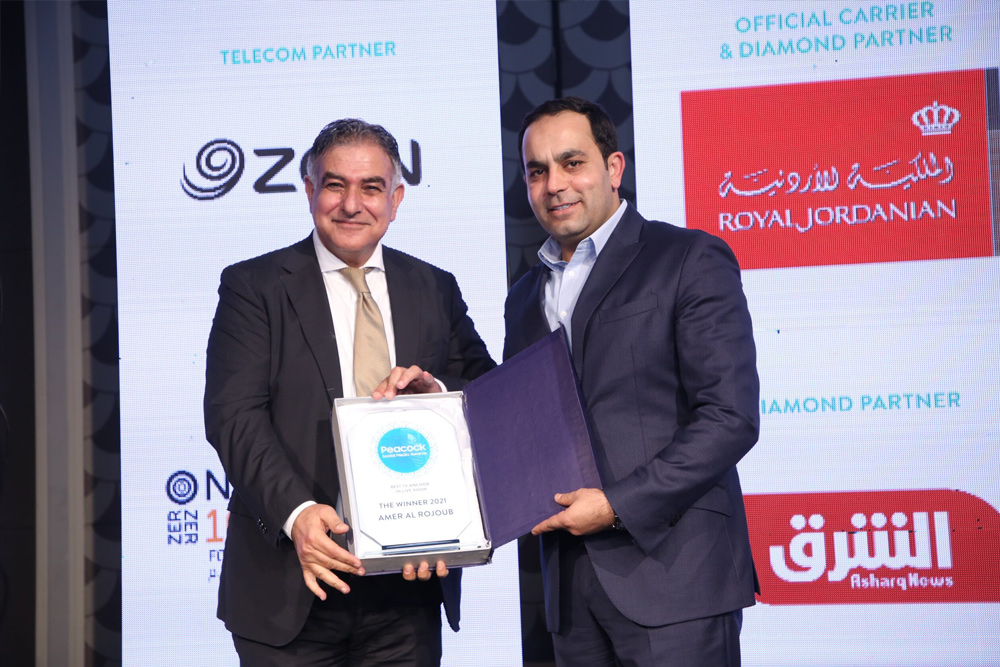 Amer Al Rojoub عامر الرجوب
BEST TV ANCHOR IN LIVE TV SHOW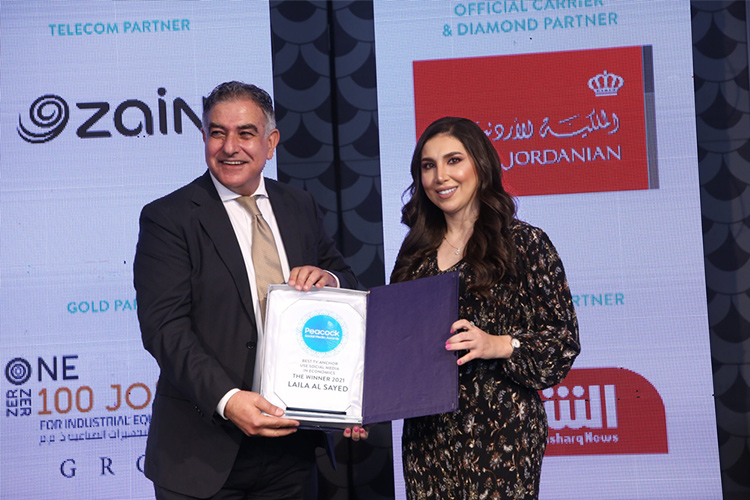 Laila Al sayed ليلى السيد
BEST TV ANCHOR USE SOCIAL  MEDIA IN ECONOMICS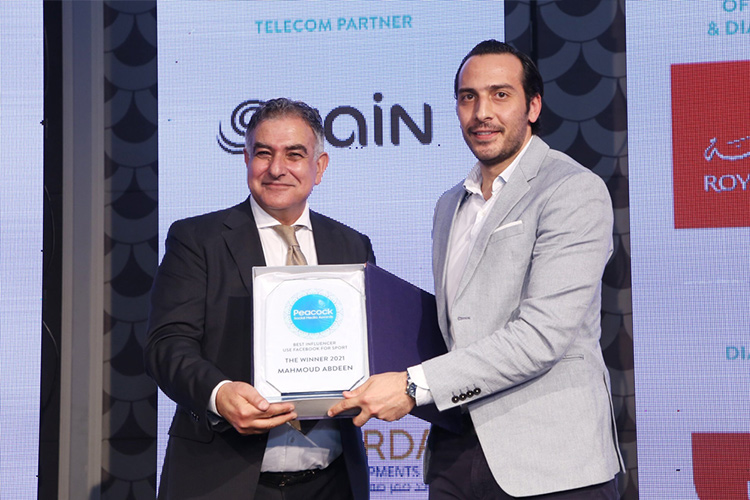 Mahmoud Abdeen الكابتن محمود عابدين
BEST INFLUENCER USE FACEBOOK FOR SPORT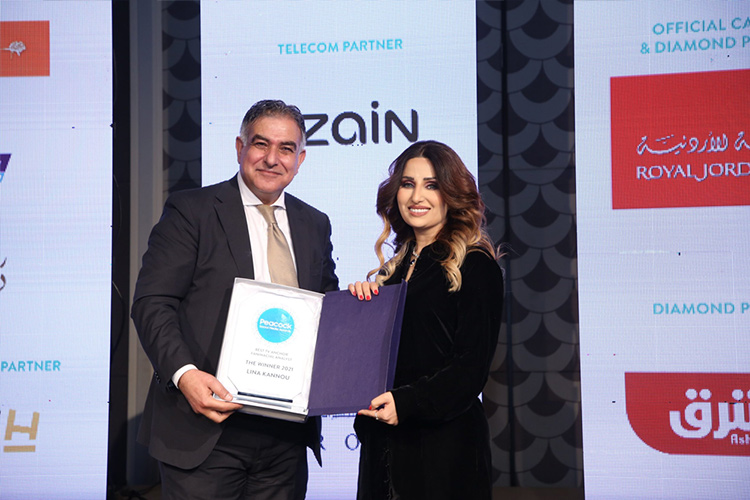 Lina Kanou لينا قنوع
BEST TV ANCHOR IN FINANCIAL ANALYSIS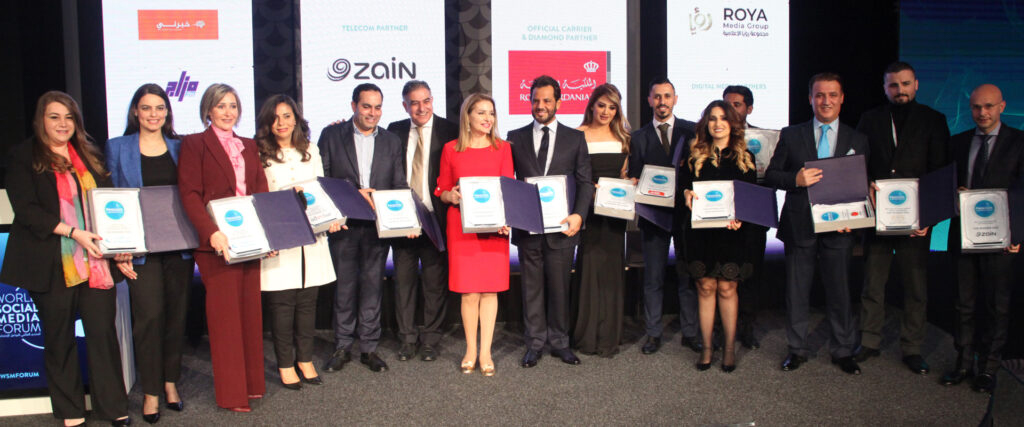 [eventador_heading2 top_title="INFLUENCERS & CELEBRITIES" title="Congrats to the Winners of 2019″]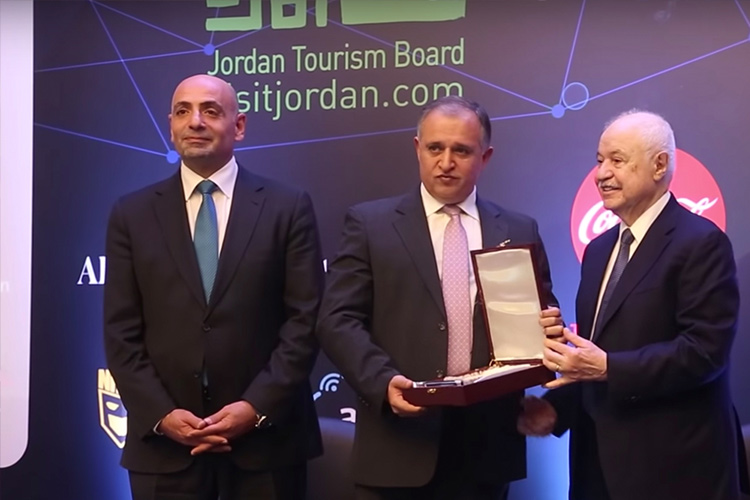 الدكتور معن قطامين Dr.Maen Qatamin‎
BEST PUBLIC FIGURE USE SOCIAL MEDIA FOR PUBLIC AFFAIRS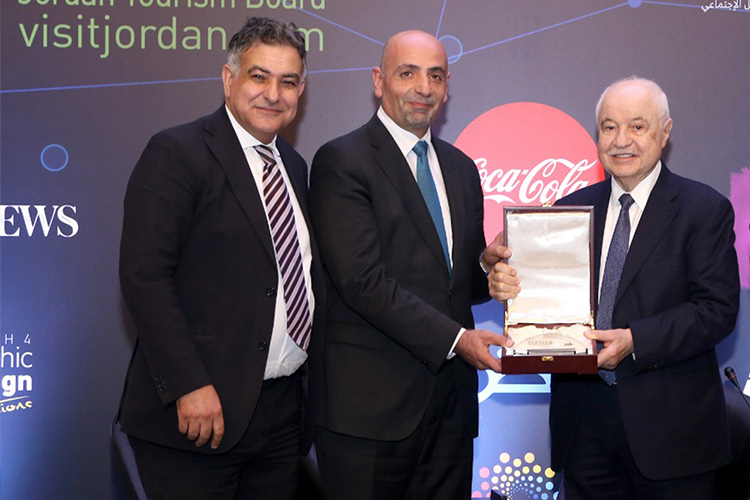 Dr. Abed Al Razzaq Arabiyat
BEST USE OF FACEBOOK FOR TOURISM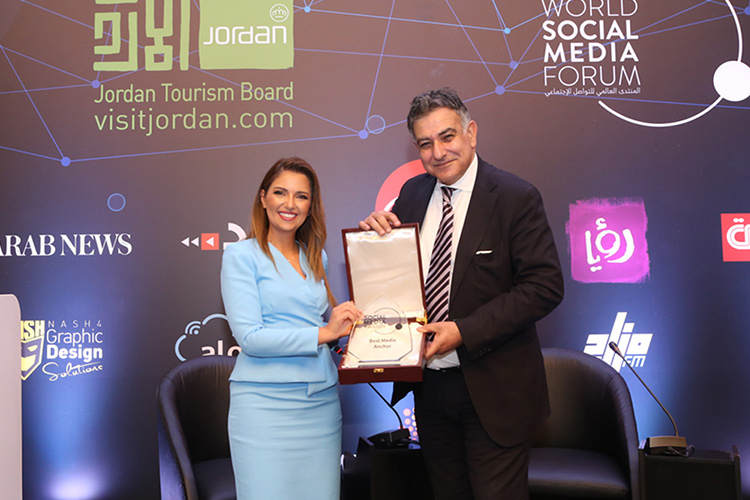 Sandy Al Habashneh الإعلامية ساندي الحباشنة
BEST TV ANCHOR USING SOCIAL MEDIA FOR HUMAN AFFAIRS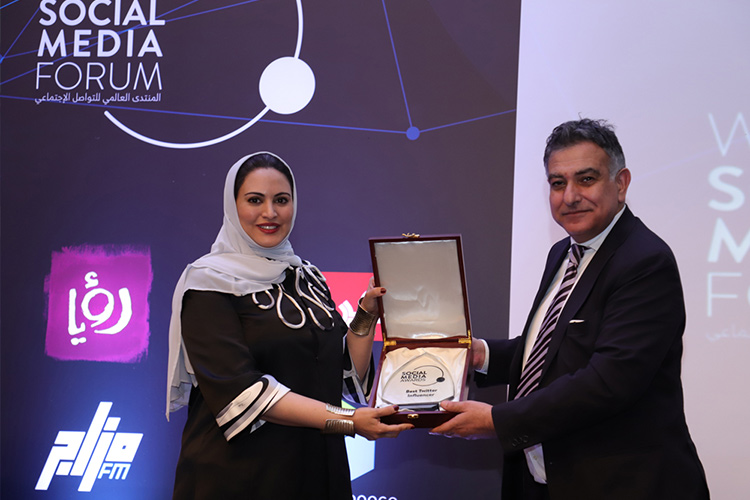 Muna AbuSulayman منى ابو سليمان
BEST MEDIA FIGURE USING TWITTER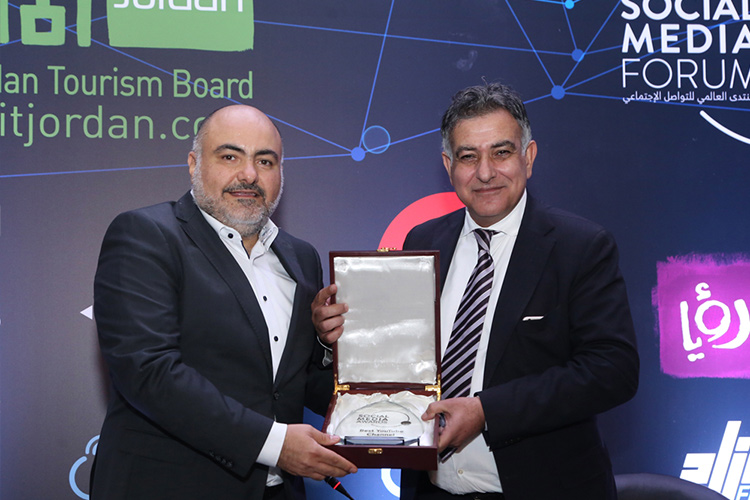 مؤسس "حياة عيلتنا" المنتج شادي شرايحة
أفضل فيلم قصير على اليوتيوب