Where
ST. Regis Hotel Amman
ABOUT #WSMForum
A NEW ERA OF SOCIAL MEDIA FOR MEDIA & BUSINESS
Firmly established as a leading social media conference, the event is now in its 7th year. #WSMForum will be taking place at the ST. Regis hotel Amman, Jordan on 09 November 2022, bringing together leading minds in marketing, PR & communication & influencers to take a look at the current and future trends, challenges and opportunities to advance their businesses on social media to encourage more meaningful interaction between Brands & consumers.
Every year since 2014, thousands of people from across the social media landscape come for an extraordinary gathering to participate at the World Social Media Forum. #WSMForum has grown so large and so fast and became the most influential, prestigious and networking event to discuss, share ideas, insights & strategies and we're doing it all again in 2022.
The conference includes the Peacock Social Media Awards, RED CARPET STYLE to honor organizations, brands and individuals that use social media platforms in best and innovative ways to connect with their audiences.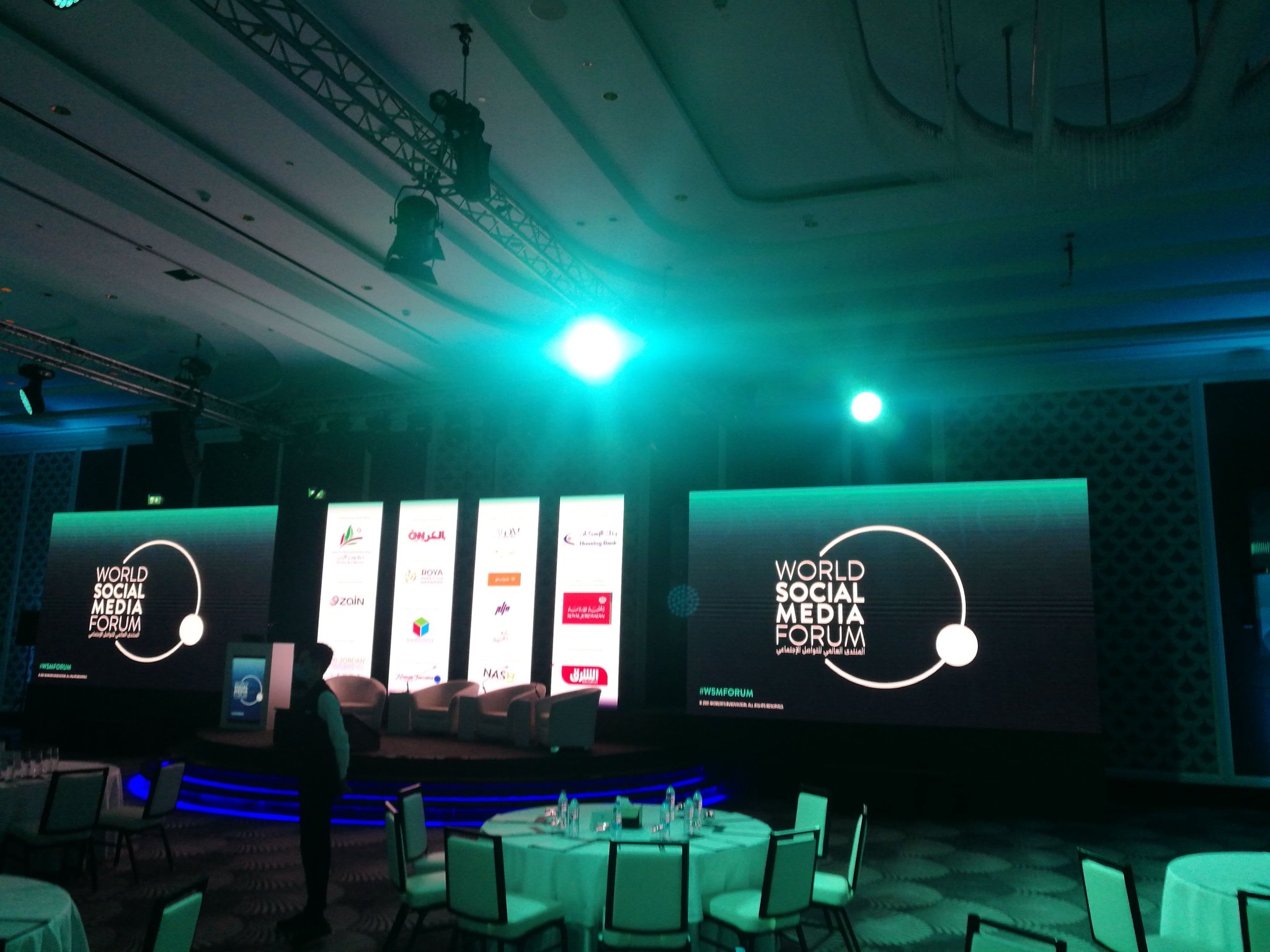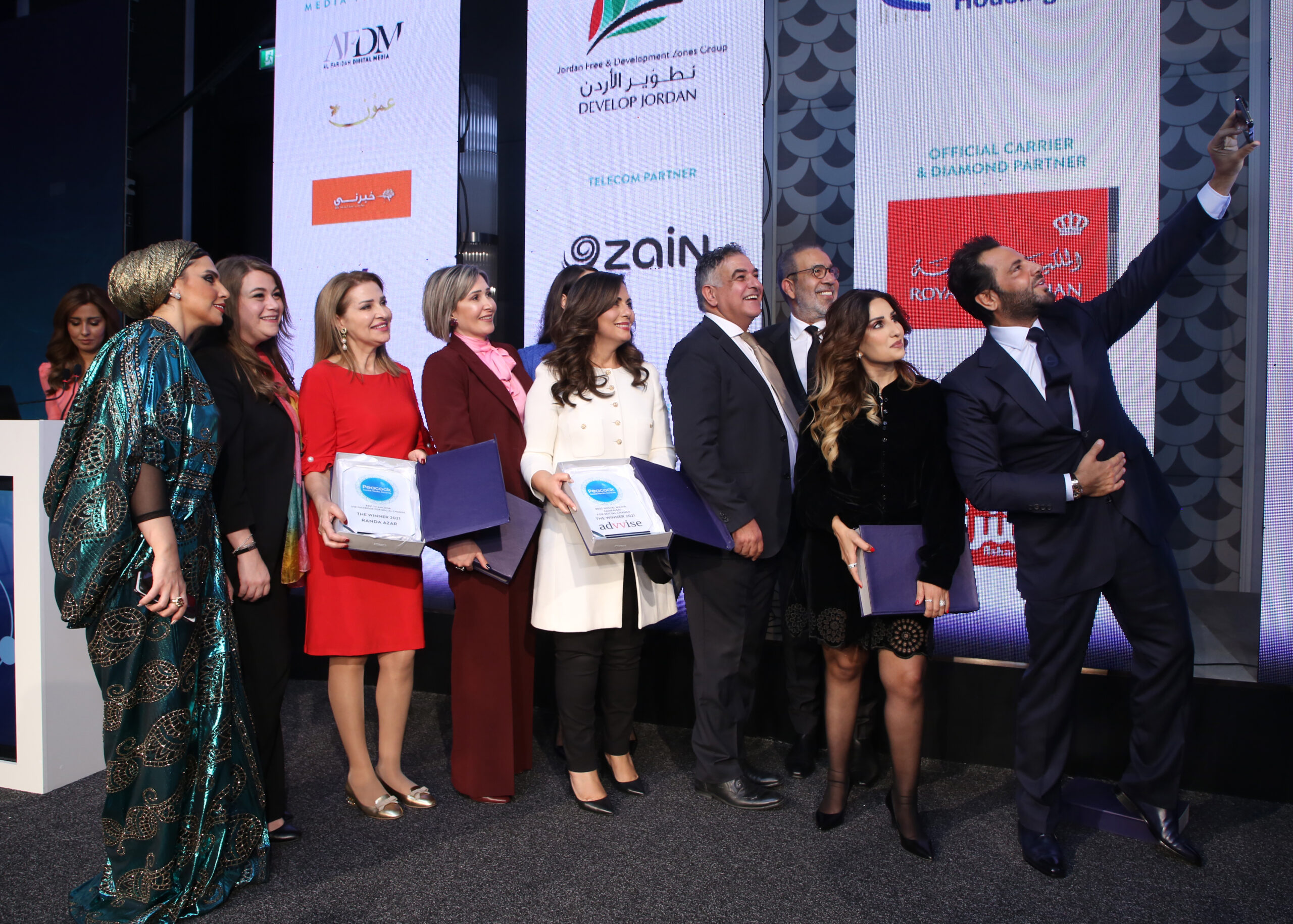 World Social Media Forum
Topics that will be addressed include:
Social Conversational eCommerce, what's next in conversational commerce & how it will be the next big thing in online shopping?
The Rise of the Creative Influencers. Marketers now face two kinds of influencers for branding and leveraging engagement. Creators offer a way of demonstrating the benefit of a solution, creating an additional micro-influencer opportunity.
The Augmented Reality Buzz Grows in the Wake of the Metaverse Hype. Marketers should be open to experimenting with AR as a way to enhance customer experiences. Snapchat has shown clear examples, such as opening virtual pop up stores for Walmart and Coke.
MEET OUR SPEAKERS
Keynote Speakers
World Social Media Forum gathered the brightest minds in the PR & Communication, Marketing and Social Media . Learn new skills and get insights from experts and practitioners from all around!
Conference Schedule
Includes access to a full day of sessions across ONE day, a lovely lunch and plenty of coffee

NETWORKING & REGISTRATION
WELCOME & OPENING REMARKS
Ayman Irshaid, Founder & CEO, Moments Innovation
PANEL DISCUSSION: THE ROLE OF SOCIAL MEDIA IN THE FORMATION OF PUBLIC OPINION IN REGARD TO ISSUES OF SOCIETY AND ASPIRATIONS.
حلقة نقاش: دور وسائل التواصل الاجتماعي في صناعة الرأي العام فيما يتعلق بقضايا المجتمع وتطلعاته
أصبحت وسائل التواصل الاجتماعي تمثل حلقة وصل بين الجماهير و صناع القرار في ما يخص قضايا المجتمع، كما أخذ تأثيرها دورا كبيرا في نشر مختلف المستجدات و المواضيع في شتى المجالات انضم الينا لمناقشة دور وسائل التواصل الاجتماعي في صناعة الرأي العام وتوجيه المجتمع نحو قضايا محددة.
KEYNOTE: BUILDING RELATIONSHIPS WITH ONLINE CUSTOMERS, SUSTAINABLY.
How to optimize your customer experiences, increase conversions, & drive brand loyalty with sustainable e-commerce. Sustainability is now a driving factor in many consumers' purchases. 67% of consumers check if a brand is sustainable before deciding to buy something from them. How, when, and where you communicate your sustainability story is key to providing the sustainable experiences that shoppers expect today.
جلسة رئيسية: الاستدامة وبناء علاقات مع العملاء عبر وسائل التواصل الاجتماعي
كيفية تحسين تجربة العملاء وزيادة المبيعات وزيادة الولاء من خلال التجارة الإلكترونية المستدامة.
أصبحت الاستدامة الآن تلعب دورا كبيرا في سلوك المستهلكين عند التقدم بشراء المنتجات عبر وسائل التواصل  الاجتماعي. في الواقع ، يتحقق 67٪ من المستهلكين مما إذا كانت العلامة التجارية تنفذ ممارسات مستدامة  قبل اتمام عمليات الشراء *. لذا، يجب اتخاذ  الخطوة الاولى بتنفيذ ممارسات الاستدامة لها  تأثير إيجابي على المجتمع والبيئة. انضم الينا لمعرفة كيف ومتى وأين تقوم بتوصيل قصة الاستدامة الخاصة لتوفير التجارب المستدامة التي يتحقق منها المتسوقون.
KEYNOTE SPEAKER: FACTS MUST ALWAYS BE FIRST
As so much in the world of news changes, journalists are rapidly adapting and enhancing these frameworks for transparency to suit digital platforms . join us to learn how to Implement processes, and tools that enhance credibility to become a competitive advantage.
كلمة رئيسية: يجب أن يكون نشر الحقائق هي المهمة الأولى
تتغير صناعة الأخبار بسرعة كبيرة، ويتكيف الصحفيون بسرعة مع هذه التغيرات من خلال تعزيز أنفسهم  بالأطر والأدوات من أجل تقديم الحقائق لتناسب المنصات الرقمية. انضم إلينا لمعرفة كيف يتم تنفيذ هذه الأطر والأدوات التي تعزز المصداقية وتصبح ميزة تنافسية
PRESENTATION: HOW METAVERSE EXPERIENCES EMPOWER THE INDIVIDUALS: THE ROLE OF SOCIAL IN THIS PROGRESSIVE WORLD.
PRESENTATION: THE ROLE OF TECHNOLOGY IN THE SEARCH OF THE TRUTH.
How CNN verifies social media videos. Social media footage has played a key role in news coverage. But how to make sure the videos and images are real, accurate and current. Join us to hear how CNN's investigative team has been doing that.
العرض الرئيسي: دور التكنولوجيا في البحث عن الحقيقة.
كيف تتحقق شبكة سي ان ان من مقاطع الفيديو على وسائل التواصل الاجتماعي. لعبت لقطات وسائل التواصل الاجتماعي دورا رئيسيا في التغطية الإخبارية. ولكن كيفية التأكد من أن مقاطع الفيديو والصور حقيقية ودقيقة وحديثة. انضم إلينا لتسمع كيف يقوم فريق التحقيق في شبكة سي ان ان  بذلك.
PANEL DISCUSSION: FAKE NEWS & MISINFORMATION IN UNCERTAIN TIMES:
Fake news has become a global concern. How to determine if the information they encounter online is accurate, reliable, and worthy of being shared. Join us to listen to a group of experts to talk about how to stop the opportunity to stir up controversy and debates in support of disinformation, how to formulate effective corrective messages to counter the spread of disinformation, how to engage the public in combating disinformation and spreading awareness.
حلقة نقاش: الأخبار المزيفة والمعلومات المضللة في أوقات الأزمات
قضية انتشار المعلومات المضللة باتت مصدر قلق عالمي. لكن كيف لنا معرفة  ما إذا كانت المعلومات التي نستقبلها عبر وسائل التواصل الاجتماعي دقيقة وموثوقة وتستحق المشاركة. انضموا إلينا للاستماع الى مجموعة من الخبراء للحديث عن كيفية ايقاف الفرصة لإثارة الجدل والنقاشات الداعمة للمعلومات المضللة، كيفية صياغة رسائل تصحيحية فعالة لمواجهة انتشار المعلومات المضللة، كيفية إشراك الجمهور في مكافحة المعلومات المضلِّلة ونشر الوعي
KEYNOTE: BRINGING TOURISM & TRAVEL EXPERIENCE TO LIFE WITH REAL CONTENT.
It's time for tourism brands to shift away from perfectly polished photo shoots and start leveraging the millions of pieces of authentic user-generated content (UGC) that Millennials and Gen Z seek and trust. Join us to learn how you can transform your digital strategy to better reflect real traveler experiences. Explore how to develop a visual content strategy that drives Millennials to post-trip photo sharing. Empower, encourage and activate shareable moments for customers and influencers and define metrics to measure the success and ROI of UGC campaigns
جلسة رئيسية: اتاحة تجربة جديدة لقطاع السياحة والسفر مع محتوى حقيقي
لقد حان الوقت لقطاع السياحة والسفر الابتعاد عن استخدام الصور الفوتوغرافية والبدء في الاستفادة من مشاركة ملايين من البث المرئي الذي ينتجه المستخدمون. انضم إلينا لمعرفة كيف يمكنك تحويل استراتيجيتك الرقمية لتعكس بشكل أفضل تجارب المسافرين والسياح من الصور الحقيقية التي ينتجونها. استكشف كيفية تطوير استراتيجية محتوى مرئي تدفع جيل الألفية إلى مشاركة الصور بعد الرحلة. تحديد المعايير لقياس نجاح حملات المحتوى الذي ينتجه المستخدمون وعائد الاستثمار عليها
KEYNOTE: 10 LESSONS ON HOW TO UNLOCK THE COMMERCIAL POTENTIAL OF TIKTOK
Join us to learn how to sell on TikTok and how this platform has overtaken YouTube globally as the single biggest video content platform in the world and how brands should be looking at this as a commercial channel.Let 2023 be the year you sell your products to its global audience via TikTok Shop or sending huge traffic to your ecommerce platform. We will explore the key lessons we can learn from small businesses and big brands today and how can we apply them to your business tomorrow.
كلمة رئيسية: 10 دروس حول كيفية الاستفادة من الإمكانات التجارية لمنصة تيك توك
انضم إلينا لمعرفة كيفية البيع على "تيك توك" وكيف تفوقت هذه المنصة على اليوتيوب عالميا كأكبر منصة لمحتوى الفيديو في العالم وكيف ننظر إليها كقناة تسويقية. دع 2023 يكون العام الذي تبيع فيه منتجاتك لجمهورك عبر "توك توك" أو ترسل حركة مرور ضخمة إلى منصة التجارة الإلكترونية الخاصة بك. ستكشف أيضا 10 دروس رئيسية يمكن أن تتعلمها من الشركات الصغيرة والمتوسطة والعلامات التجارية وكيف يمكننا تطبيقها على عملك في المستقبل.
KEYNOTE: HOW TOP AUTO BRANDS ARE DRIVING DIGITAL MARKETING SUCCESS.
Auto buyers increasingly trust online reviews and social media posts from other car owners and enthusiasts more than they trust salespeople or traditional advertising. Instead of fighting this trend, smart automotive brands are embracing user-generated content (UGC) to power their digital marketing campaigns with compelling, real customer stories. JOIN US to see the different ways top brands are using UGC to drive real results.
جلسة رئيسية: كيف تقود أفضل العلامات التجارية للسيارات نجاح حملاتها التسويقية الرقمية
يثق مشتري السيارات بشكل متزايد على التغذية الراجعة عبر منشورات وسائل التواصل الاجتماعي أكثر من الإعلانات التقليدية. انضم إلينا لمعرفة الطرق المختلفة التي تستخدم بها أفضل العلامات التجارية المحتوى الذي ينتجه المستخدمين والذي يتم تداولها عبر وسائل التواصل الاجتماعي لدعم حملاتهم التسويقية بقصص حقيقية  لتحقيق نتائج حقيقية.
KEYNOTE: CREATING A TRULY PERSONALISED DIGITAL EXPERIENCE IN BANKS AND FINANCIAL SERVICES.
Social media marketing for banks has rapidly moved from primarily a social tool to an important solution necessary for building customer relationships and providing personalized customer experiences with consumers. With opportunities for banks to connect and build relationships with consumers outside of the sales process. JOIN US to learn tips on how social media helps modern banks to truly understand consumers by benefiting from targeting, advertising, compliance, customer service, & user experience.
جلسة رئيسية: خلق تجربة رقمية شخصية على وسائل التواصل الاجتماعي للبنوك والخدمات المالية
انتقل التسويق عبر وسائل التواصل الاجتماعي للبنوك بسرعة من منصة اجتماعية إلى منصة تفاعلية لبناء  علاقات و تجارب شخصية مع العملاء. ما هي فرص البنوك للتواصل وبناء العلاقات مع العملاء خارج عملية المبيعات. انضم الينا لمعرفة نصائح حول كيف تساعدك وسائل التواصل الاجتماعي على فهم العملاء من خلال الاستفادة من المحادثة الثنائية و الإعلانات المستهدفة وخدمة العملاء.
PANEL DISCUSSION: TRADITIONAL MEDIA VS. DIGITAL MEDIA — Who's the King Now?
حلقة نقاش: تحديات وسائل الإعلام التقليدية في مواجهة وسائل الإعلام الرقمية
A group of the region's leading news content makers in the Arab region discussing the challenges of traditional media in the face of digital media. مجموعة من أبرز صناع المحتوى الإخباري في المنطقة العربية يناقشون تحديات الإعلام التقليدي في مواجهة الإعلام الرقمي.
RED CARPET AND PHOTO SHOOTING RECEPTION
GALA-DINNER PEACOCK AWARDS CEREMONY
The Peacock Awards honor the best in social media by recognizing & rewarding Organizations & Individuals that are using social media in best & innovative ways.
JOIN THE EVENT
Conference Tickets
The World Social Media Forum has a variety of ticket types to suit the variety of delegates out there. Find out the best option for you and your team!
Individual Ticket
$
250
Includes access to a full day of sessions across a lovely lunch and plenty of coffee
Book Now
Regular Seating

Yes

Sessions Entrance

Yes

Networking

Yes

Coffee Breaks

Yes

Lunch Break

Yes
Group of 5 Tickets
$
1125
Includes access to a full day of sessions across a lovely lunch and plenty of coffee
Book Now
Regular Seating

Yes

Sessions Entrance

Yes

Networking

Yes

Coffee Breaks

Yes

Lunch Break

Yes
Join the conversation on social media use #WSMForum
Beyond the sessions networking at #WSMForum is built right into the schedule and even into some of the sessions. From early morning networking walks to the amazing evening events, there's plenty of opportunity to connect with fellow marketers. Search the hashtag now through November 9th to get inspired and keep up with the latest buzz.
EVENT SPONSORS
Our Sponsors & Partners
Thanks for those amazing partners who have support us to host this conference!
EVENT GALLERY
Our Gallery
bringing together leading minds in marketing, PR & communication and influencers to discuss new social media trends, challenges and opportunities